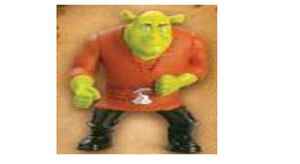 Brogan is an ogre who is the second-in-command leader of the Ogre Resistance. In Shrek Forever After, he then introduces Shrek into the resistance and he is seen using his nose as their horn. He is seen later in the meeting with Fiona on how to fight against Rumpelstiltskin and the witches. Later, when Pied Piper arrives and uses his flute into ogre, the song "Shake Your Groove Thing" is played and later, he is shown that he cannot stop dancing. Later, he and the other ogres are captured until they fight in the castle and defeat Rumpelstiltskin. The 24 hours passes and the contract is destroyed, sending him and the others to disappear. He is seen in the end credits where he is also a guest in Shrek and Fiona's ogre triplets' birthday. In the deleted scenes of Shrek Forever After, the crew said Brogan was going to be a love interest for Fiona, they later changed their minds.
Ad blocker interference detected!
Wikia is a free-to-use site that makes money from advertising. We have a modified experience for viewers using ad blockers

Wikia is not accessible if you've made further modifications. Remove the custom ad blocker rule(s) and the page will load as expected.