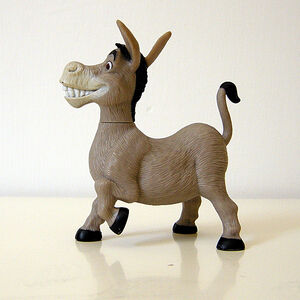 Donkey is seen as being annoying, talkative, donkey-like, and sensitive. Being a donkey, he has a sweet tooth enjoys such foods as waffles, parfait and "upside-down coconut soufflé with mango chutney sauce." In a scene about Merlin's bonfire, Donkey's sweet tooth gets the best of him, for he sees only a fudge torte on it in the enchanted smoke. In the "Meet the Cast of Shrek 2" segment that is featured in the Special Features part on the Shrek 2 DVD, Eddie Murphy says: "Donkey is a really positive character. He's always looking at the bright side of everything, trying to work it out. A happy-go-lucky donkey."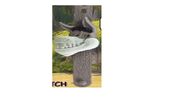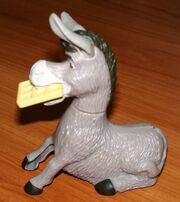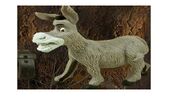 Ad blocker interference detected!
Wikia is a free-to-use site that makes money from advertising. We have a modified experience for viewers using ad blockers

Wikia is not accessible if you've made further modifications. Remove the custom ad blocker rule(s) and the page will load as expected.