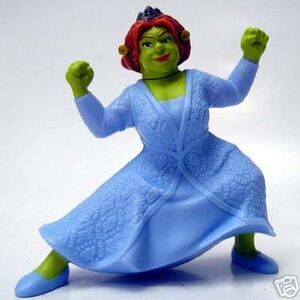 In Shrek, Lord Farquaad sends the ogre, Shrek, to retrieve Princess Fiona to be the Lord's bride. When she first appears, she is angered to learn that her rescuer is not her Prince Charming, but an ogre, and that the man who wants to marry her would not come himself. At first, she refuses to travel to Farquaad, but eventually befriends Donkey and develops a bond with Shrek, since they both realize they are more similar than they first thought, and Fiona begins to doubt that Lord Farquaad is her true love. Her Dragon guardian later falls in love with Donkey. Throughout the film, the audience discovers that she is cursed and, while she is a human by day, she becomes an ogress at sunset. The spell was placed upon her when she was a child by a Witch. (It is not known whether the Fairy Godmother placed this curse as part of her plan.) Donkey discovers this when checking on the Princess at night, and Fiona explains the curse. Shrek overhears part of this - with Fiona asking, "who could ever love a beast so hideous and ugly?"-, and believes Fiona is referring to him. Angry and upset, Shrek hands Fiona over to Farquaad, and Fiona goes with him willingly as she is upset by Shrek's cold behavior, although she doesn't seem to like Farquaad on sight. When Donkey later on reveals to Shrek that Fiona was talking about 'somebody else', Shrek rushes off to disrupt the wedding. The curse is lifted at the end, when Fiona is kissed by Shrek and becomes an ogress permanently; while she had expected to become her human self, Shrek assures her that she is still beautiful and the two marry. Then they have a big party and Shrek and Fiona go to a beach on their honeymoon. They later have three kids named Farkle, Fergus, and Felicia.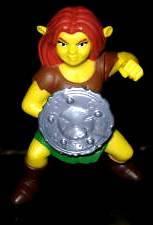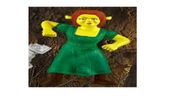 Ad blocker interference detected!
Wikia is a free-to-use site that makes money from advertising. We have a modified experience for viewers using ad blockers

Wikia is not accessible if you've made further modifications. Remove the custom ad blocker rule(s) and the page will load as expected.