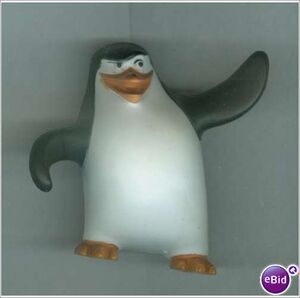 Skipper is the leader of a band of penguins bent on a secret agenda of escaping the confines of the zoo and being free in Antarctica. He has dark, sapphire-blue eyes. It is revealed that he, as well as the others, have no idea what is expected of the penguin species by humans aside from "smile and wave." It comes to the point where Private needs a bird biology book to tell the others how to act, even though it's not addressed how he, nor Kowalski, has been able to read the English language and yet still need Phil and Mason to translate in most instances. As leader, Skipper was the mastermind behind a plot to escape the confines of the zoo and leave for Antarctica with Kowalski, Rico, and Private as his accomplices. Skipper and his troupe dug under their enclosure until they reached the enclosure of Marty the zebra, thinking it to be the South Pole. Skipper explained to Marty that they would escape the zoo on the grounds that penguins do not belong in captivity and with that, ordered his accomplices to continue tunneling. Late that night, Skipper and the other penguins were caught by a SWAT team, as were six other animals found outside the zoo. The penguins were tranquilized and put into a crate to be transferred. When they awoke, Skipper was confused at the lettering on the crate where they were held and ordered a nearby chimpanzee named Mason to read it, with Mason's companion Phil reading it: they were all bound for a wildlife preserve in Africa. Skipper ordered Rico to pick the lock on the crate where they were held, whereupon the four penguins knocked out the crew and took command of the ship, commandeering it to reach Antarctica. Skipper and his mates finally reached Antarctica and were sorely disappointed by the barren, desolate terrain (as evidenced by Private's exclamation, "Well, this sucks..."). Skipper had the ship return quickly from the South Pole, where it crashed into the beaches of Madagascar and a much warmer climate. Upon arriving, he and the other three encountered Gloria and Melman, and saw that Alex and Marty were gone. Skipper decided to help rescue Marty from the grim fate of being eaten by the native fossa (possibly as gratitude for his silence regarding the escape). It was Skipper who helped to distract the fossa while Marty was recovered and then helped fight off a number of them. Skipper noticed later on that Alex was still hungry, not being able to eat steak, and had Rico prepare sushi for Alex. Skipper then relinquished control of the ship to Alex, as he no longer needed it, and proceeded to sunbathe on the tropical beaches in comfort. Skipper was asked by Private if they should tell Alex and his friends that the ship was out of gas. Skipper declined, telling his troupe to "Just smile and wave, boys, smile and wave."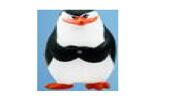 Ad blocker interference detected!
Wikia is a free-to-use site that makes money from advertising. We have a modified experience for viewers using ad blockers

Wikia is not accessible if you've made further modifications. Remove the custom ad blocker rule(s) and the page will load as expected.